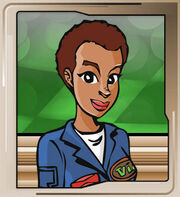 Lucy is a student at the Racer Academy and helps direct racers throughout the virtual track. She is shown to always be there for Speed and helps him prepare for races and guide him using the comm system. She is great in education such as Physics & Science. She wears a blue jumpsuit over a white-colored undershirt (or a tank top or a crop top) with sky blue cuffs and red booties.
Personality
Edit
She is serious, smart, and gets frustrated quickly. She also gets jealous of any girls who hit on Speed, such as Elsa Zazic, Annalise's cousin from Germany in "The Dance," hinting that Lucy has a crush on Speed. However, Lucy is more relaxed when Speed is around.
Relations
Edit
Connor (one of her best friends)
Speed Racer Jr (one of her best friends/crush)
X Racer (one of her friends)
Annalise Zazic (enemy in season 1 but friend in season 2)
It is hinted that Lucy has a crush on Speed
Lucy and Speed's relationship is similar to Trixie and Speed Senior's
In season one during "The Dance" Speed looks at Lucy and they awkwardly gaze at each other before Speed offers to dance with her
Lucy has shown obvious jealousy towards other who see Speed in a romantic way
In season two in a filler episode near the end of "Gotcha!" Speed and Lucy finally confess their true feelings to each other and share a kiss, but much to their dismay, the whole school was able to see it.