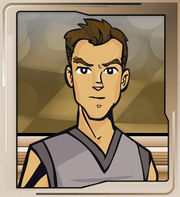 X Racer is the first son of the legendary Speed Racer and the older brother of Speed Jr. He was not hidden from the world unlike Speed. He was raised at home most likely by Uncle Spritle. He is a top racer at the Racer Academy and cares about becoming famous, which is the total opposite of what his younger brother wants. He is voiced by Robbie Sublett in the first season and by Bryan Tyler in the second season. He has dark brown hair, wears a pale taupe tank top, with a X tattoo in his right arm.
Personality
Edit
At first, X might come across as a tough guy, but deep down inside, he has a big heart. He cares about his family and friends, wanting to do anything to help them. He also gets upset when things come up in where he sees it, leading him to influence. He can be cocky at times, and he even lets his jealousy and temper get the best of him, which often leads him into trouble. He also is a big believer in what he sees, going to any team in which influences him.
Abilities
Edit
Like Speed, he is a great driver and mostly uses his driving skills to get out of tough situations. He only uses the Shooting Star while racing.
Relatives
Edit
Speed Racer Sr. (father)
Trixie (mother)
Speed Racer Jr. (younger brother)
Pops Racer (paternal grandfather)
Mom Racer (paternal grandmother)
Tredwell (maternal grandfather)
Spritle Racer (uncle)
Rex Racer (uncle)
Appearance
Edit
He is seen in all episodes except for "Video Essay," in which he only appears in flashbacks.
X is the only character so far to have almost been killed by Zile.
X is the third character to work for the Shadow Committee right behind Zile and the twins.
X is the fourth character to see the Shadowy Woman followed by Zile, Annalise, and Lucy, but revealing who she is, while the others never knew who she is. 
X's evil racer name and called by the Shadow Committee is called, the Red Bolt.